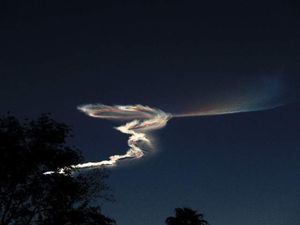 Originally published on SOTT.net on September 16, 2012.
On Thursday morning, 13th September 2012, early risers from all over the southwestern United States – California, Nevada, Utah, Colorado and New Mexico – were stunned by the appearance of a vivid luminescent trail high up in the atmosphere. Photos taken by residents reminded me of the glowing trail seen across the Caucasus on the 7th June 2012 (which I have written about here). My suspicion that we were looking at the arrival and overhead explosion of yet another meteor or cometary fragment (MoCF) solidified when I read some of the ridiculous claims of the US Army that they had test-fired a rocket/missile at 5.30am local time on the 13th of September.
Folks contacted law enforcement in northern New Mexico and southern Colorado to report "a crash". A sheriff's deputy in northern New Mexico said he witnessed "an explosion" and part of the object breaking apart from the main body. No one reported a trail moving from the ground upwards, just a very fast-moving dot in the sky that produced a very bright trail mid-atmosphere, indicating that nothing was launched from the ground.
Damage control quickly went into operation, with Associated Press reporting that:
The "explosion" was a normal separation of the first and second stages of the unarmed Juno ballistic missile that was fired at 6:30 a.m. MT from Fort Wingate near Gallup, N.M., said Drew Hamilton, a spokesman for the U.S. Army's White Sands Missile Range. The expended first stage landed in a designated area of U.S. Forest Service land.
The problem here is that there doesn't seem to be any information on anything called a "Juno Ballistic missile". There was Juno I, a large rocket booster used for satellite launches in the 1950s, while the Juno II was an American space launch vehicle used during the late 1950s and early 1960s. Having said that, there does appear to be a "Juno Target Missile" which appears to be a modified version of the booster rockets used on older generation space launch vehicles.
Continue reading "Incoming! Meteor or Comet Fragment Explodes Above Southwestern US, Prompting US Army 'Missiles' Cover-up"