Originally published on SOTT.net on December 20, 2012.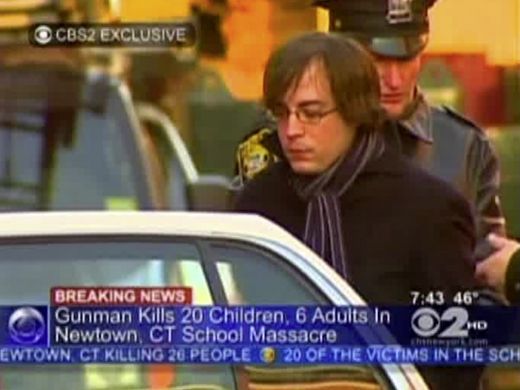 In the following passage of my previous article on the Sandy Hook elementary school massacre in Newtown, Connecticut, I made the following reference to Ryan Lanza being the named second suspect caught armed in the adjacent woods:
Perhaps most astonishingly, this suspect arrested in the woods was named in an Associated Press report as 24-year-old Ryan Lanza. The original report has long since vanished of course, but you can see it referenced here. This was despite the fact that Ryan had already been named as the deceased suspect inside the school, lying next to two handguns.
I have since found the original Associated Press report, which in fact states that it was "Ryan's younger brother", Adam Lanza, who was arrested in the woods. So let's take a closer look at this revealing report.
2:25 p.m. CST — A FoxNews report said:

witnesses said a handcuffed man, dressed in camouflage was led out of a nearby woods by officers who reported to the shooting. The individual is Lanza's younger brother, according to the Associated Press.
That Fox News report has since been 'updated', but here is the full original text and screenshot of the Associated Press report which places both brothers at the scene, one dead (Ryan), and the other arrested (Adam):
AP source: Suspect is 24; younger brother held

Pete Yost, Associated Press
Friday, December 14, 2012

Washington (AP) – A law enforcement official says the suspect in the Connecticut school shootings is 24-year-old Ryan Lanza and that his younger brother is being held for questioning as a possible second shooter. The law enforcement official says the boys' mother, Nancy Lanza, works at the school as a teacher.

The official also said Ryan Lanza's girlfriend and another friend are missing in New Jersey.

Speaking on condition of anonymity, the official said the suspect is dead from a self-inflicted gunshot wound.

The official spoke on the condition of anonymity because the source was not authorized to speak on the record about the developing criminal investigation.
© SOTT.net
Who exactly is this 'law enforcement official' that has access to the premier news agency in the country, and on behalf of which state agency does he/she work for?
How did they even know at this point that Ryan had a younger 20-year-old brother when there are no public records of Adam Lanza since 2009 and the two brothers had not seen each other since 2010, as claimed by Ryan? How could they have known on Friday morning that Ryan had a girlfriend and that she and another friend were missing in New Jersey? How did they even know that Ryan had any connection to New Jersey at all? The Lanzas' mother was dead at this point and their father only found out later through a reporter asking him about Adam, who had by then become the 'lone gunman' in the official narrative.
Surely the first point on the timeline at which anyone can even begin to discover these things about Ryan is the moment he piped up on Facebook and said "Hi, I'm alive, I didn't do it, and I live and work down here in New Jersey!" How could 'law enforcement officials' have pieced together details of his life but not known that he was actually still alive in the very location where they stated that his girlfriend had gone missing?
The only way they could have found out all this about Ryan Lanza was if they had 100% positively identified him as the 'dead gunman inside the building', then worked backwards from there by investigating who his next of kin were, then questioning family members, then discovering where he lived and worked, that he had a girlfriend and that she and a friend were missing, etc.
Such things take time to investigate, especially as they would involve cross-checking with police and other officials in New Jersey. And even before that, somebody there would first have had to receive local reports of two missing people before any connection could be made to the shooting in Connecticut.
Even if we granted these 'law enforcement officials' superfast detective powers, they would not have been able to travel back in time to rewrite the script regarding how they knew what they knew about the Lanza brothers, particularly Ryan. Because from the moment the official line was forced to deviate towards saying that Ryan Lanza was no longer the 'dead shooter inside the building', it became impossible for these 'law enforcement officials' who "weren't authorised to speak" (but heck, were telling lots of people lots of things that morning anyway, and whose credentials enabled them to speak through the Associated Press and other media outlets) to have retrospectively discovered all these connections of Ryan.
The only logical conclusion I can draw at this stage is that somebody or some group with high-level media access had FOREKNOWLEDGE of the crime, foreknowledge that is revealed by their 'anonymously' leaking to the press things which they could not otherwise have known, foreknowledge that exposes their hand in originally planning to use both Lanza brothers as patsies.